Custom made
Although our production process is largely automated, we have deliberately maintained the capacity for human intervention in our process. Thus, we have the flexibility to work on tailor-made projects. Upon request, we can manipulate every facing brick of our product line, until it matches with the idea of the client or his architect.
Starting from 500m², we can provide the brick that is customized to your project.
In a renovation project, the builder often encounters constraints submitted by the urban planning regulations, forcing him to find a facing brick that perhaps is not manufactured anymore. We can perform tests to find an alternative, and are committed to provide the client with samples of our tests at the earliest convenience.
Dutch or English bond
We can offer bricks with a false joint in the middle of the stretcher. This solution provides the desired effect at an attractive price and without extra cutting work of brick.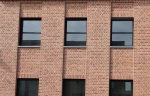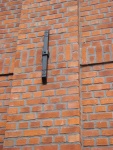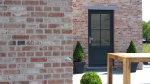 Example of custom-made bricks : Mechelen, Bruul. Bricks in extended size.